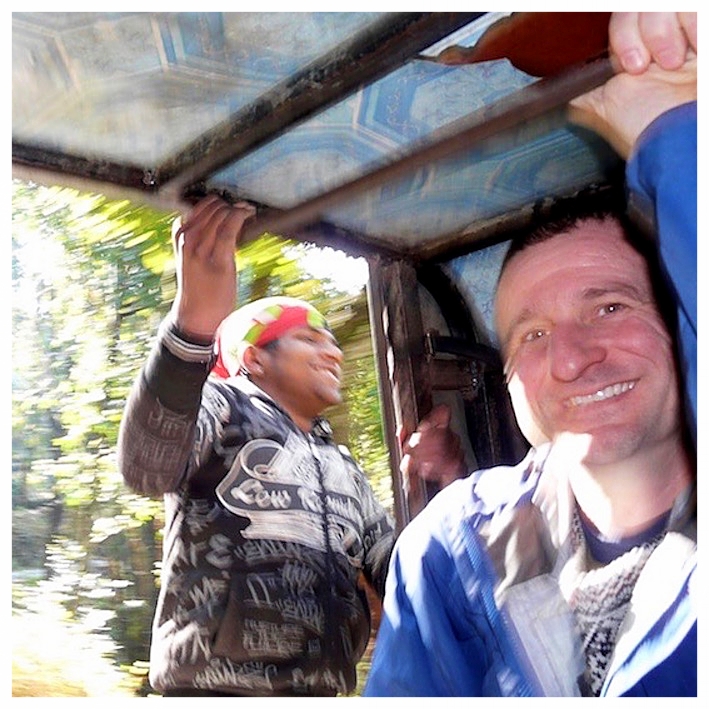 My journey into conflict transformation and peacebuilding
Welcome to The Peacebuilding Practitioner. My name is Bjoern and I have been active in the wider field of international cooperation, conflict transformation and peacebuilding for the last 20odd years.
My passion for this kind of work started off in earnest when I had the chance to study at the University of the Witwatersrand in Johannesburg/South Africa in 1995. 1995 was the year after the first general and free elections officially ended the Apartheid regime. During this time South Africa was an amazing place to be. A place to witness a society in transition. A place where history was in the making. A place that offered me experiences that had a huge impact on me and many of my decisions in life ever since.
The time in South Africa also laid the foundation for my choice of work. After graduating from university in Germany and having worked in international youth encounters for some time, I moved to East Africa. For several years I lived and worked in northern Uganda, focussing on conflict transformation and peacebuilding work in the areas affected by the war between the Lord's Resistance Army (LRA) and the Government of Uganda. Not an easy time, but in many ways a very rewarding one. Being welcome by the people of northern Uganda, being allowed to learn from them and observe how they deal with the conflict and the ever-present violence in their communities, how they developed practical ideas in an ever-so-challenging environment where the odds where clearly stacked against them was a humbling experience; one that had a significant impact on my approach to working in and on conflict.
After more than seven years of working in the LRA-affected areas and on the LRA conflict in East and Central Africa, I moved to Timor Leste. At that time Timor Leste was the youngest nation on the planet. The country had suffered from more than 25 years of Indonesian occupation and had only recently gained its independence. This small Asian nation was proud of having wrestled its sovereignty from its mighty Indonesian neighbour. But now the society was in need of a new, positive identity that was not solely formulated around the resistance to the occupation.
During that time my work focussed mainly on youth leaders and young people from all over the country, exploring ways how the young generation could pro-actively shape the future of Timor Leste. Our efforts to develop processes for an increased and constructive socio-political participation were set against a background of a country in time of transition. And this transition was marked by internal feuds, by escalating tensions when several hundred soldiers deserted the national army and culminated in the assassination attempts on the then President José Ramos Horta as well as the then Prime Minister Xanana Gusmão. 
Since 2009 I have been back in Europe, working as a consultant to local conflict transformation and peacebuilding initiatives mainly in Africa and Asia. In the last eight years I had the pleasure of supporting several dozen organisations in a variety of settings, ranging from Liberia, Ghana and Nigeria in the West over Pakistan, India and Nepal to Indonesia and Cambodia in the East.
Throughout my career I had the opportunity to observe countless conflict transformation and peacebuilding initiatives. Initiatives of all shapes and sizes, so to speak, unfolding in a variety of settings and cultural contexts. Some of them developed locally, firmly rooted in the realities on the ground. Others run by big international organisations. Some of them really well planned and executed while others were doing more harm than good. Some of them being immensely creative and tailored to the very needs in a given location at a given time while others seemed to follow a standardised copy-and-paste approach with little relevance for the local situation.
Lessons learned
These experiences and countless long and often thought provoking discussions with conflict transformation and peacebuilding practitioners from all around the globe brought out a number of recurring themes. Issues we would like to take up on The Peacebuilding Practitioner over the next couple of weeks and months.
1. Genuine appreciation for local initiatives
Generally speaking I often felt humbled by the work of local organisations. Not that they didn't have their weaknesses. But I was often left in awe by people's readiness to work with immense dedication and great creativity - often with very few resources at their disposal - to improve the very situation they found themselves in. I keep on admiring people's willingness to take on immensely challenging situations and expose themselves to danger in order to create a more peaceful and just society.
2. Voluntary versus forced engagement with the conflict
When reflecting about my experiences of the last 20odd years and how I engage in conflict transformation and peacebuilding work, I find it important to regularly remind myself of one crucial aspect. While I and many other internationals chose to work in and on conflict - out of free will, so to speak -, many of the very people I work with do not have this luxury. While I often have the choice to withdraw from a situation and can do so from one day to the next, this choice is not available to many of my colleagues. For them engaging with the very conflict in their area - in one way or another - is a necessity and often unavoidable. 
3. The power of combining people's wealth of expertise
This highlights another important aspect. While many who chose to work on conflict issues have the opportunity to get special training for the tasks ahead, others often do not have this luxury. But that does not mean they are less well equipped to constructively engage  with the conflict dynamics around them. They come with a wealth of first-hand experience often resulting in very practical approaches to address the very situation they are in. Far from the theoretical discourses of the field and the sometimes dogmatic positions of the international community, they come up with approaches that are hands-on, tested and constantly adapting to a changing environment. But even with an incredible track record, local peacebuilding initiatives often find it hard to have their voices heard and their position respected. People who work day-in-day-out on their very own conflicts as well as people who have chosen to voluntarily engage in conflict situations as part of their career can benefit from engagements that are based on mutual respect and genuine interest, creating immensely powerful and enriching learning processes.
4. Offering the right kind of learning opportunities
There seem to be two diverging trends when it comes to training needs, training demands and training offers: On the one hand there are more and more highly specialised training options, advanced level courses and highly specialised university degrees. These courses aim at the big pool of professionals who made conflict work their career choice and who demand exactly that: Highly specialised advance level training opportunities. On the other hand there seems to be an increasing number of ordinary people who are drawn - or feel forced - to working in and on conflict. People either directly affected by conflicts in their communities or people working on other issues, knowing that the conflict environment has a direct affect on what they do. This insight leads them to engage with the conflict in one way or another. In the vast majority of cases, this group has never heard of the key concepts of conflict transformation and peacebuilding work; has never been exposed to lessons learnt and how to adopt them to their very own situation; has never had the chance to engage in sharing and peer learning processes. At the same time this group could benefit immensely from a variety of learning opportunities covering the basic concepts, providing thoughtful insights, having access to simple-to-use tools, worksheets, reflection guides and do it self-guided, in their own time and according to their own needs.
What we will offer
With this in mind, The Peacebuilding Practitioner is set up to be a platform from practitioners for practitioners. It is run by Bryn Higgs and Bjoern Eser, two experienced conflict transformation and peacebuilding practitioners with almost 40 years of experience shared between them.
Over the coming months, we will offer...
...share our thoughts on these concepts and look at the lessons learnt

...provide commentary on what is needed to apply these concepts to concrete peacebuilding work on the ground

...offer a toolkit including introductions for tools, worksheets for self-guided learning, guiding questions for personal reflections, discussion guides for group work, lists with links for further reading etc.

...practitioners from around the globe to share their stories and participate in the development of future resources to be shared.
We hope you find this new platform helpful and of benefit to your work.

Post by Bjoern Eser from The Peacebuilding Practitioner